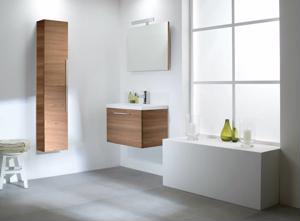 Perhaps you've noticed your bathroom - potentially one of the most important rooms in your house - could use a little bit of touching up. One way to overhaul its appearance would be running out and purchasing a new bathroom vanity or other furnishings, and there are a number of cheap, quick additions and actions that may complement these. Here are a few to consider.
Cleanliness and minor repairs

The online information resource Newlywed Survival offers some general guidelines for improving bathroom conditions, starting off with a somewhat obvious truism - you've got to keep your bathroom clean. After putting all your towels and other objects in another room for the time being, scrub the bathtub, toilet and floor until they sparkle. Newlywed Survival points out that after a thorough general cleaning, it might be easier to notice hitherto hidden blemishes in your bathroom, such as faltering towel bars, shower heads, faucets and other bathroom fixtures. You might even see that your bathroom could use a fresh paint job.
Small purchases with large results

Going from general advice to very specific thoughts, Bath Vanity Experts published no fewer than 100 ideas for improving a bathroom. For example, those who collect interesting matchbooks from hotels and restaurants they've visited may want to consider displaying them on a shelf. Putting grip tape on your bathroom floor could help reduce your chances of ever slipping and getting injured, and many waterproof electronic items like radios or cell phone chargers might enhance your convenience and entertainment options in the bathroom. Incense candles also could add a little more of a romantic atmosphere to your lavatory. The source also explains that rubbing shaving cream on your bathroom mirror may prevent it from getting foggy for a few weeks. Some readers may want to think about asking a friend to lather up his or her mirror before they do, in case it doesn't work.
You can't spell "decorate" without "decor"

It's also worth remembering that many items you already have around your house could simply be moved to the bathroom. If you have too many posters cluttering your bedroom wall, it makes sense to move one or two of them into the bathroom to give it a homier, more individualistic appearance.