Posted on Tuesday, October 30, 2012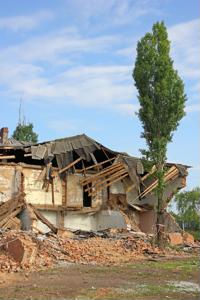 To say the Birmingham family of Mesquite, Texas, may require a new bathroom vanity would be a substantial understatement.
According to a report from an NBC affiliate station, a speeding 17-year-old driver crashed his red Ford Mustang into their home on the afternoon of Saturday, Oct. 27. No serious injuries were reported, but the home's bathroom, bedroom and living room were all reduced to rubble.
The news report said that Susie Birmingham had exited her house only about a half hour before the accident occurred.
"I had an angel," she told the news provider. "I was just shocked [in] disbelief that it could do this much damage."
Although extremely distraught about the state of her home, she expressed substantial gratitude that the teenager driver survived the crash. However, she and her husband said they're not sure yet whether or not to press charges against him.
Ohio college bathrooms defaced by inspirational messages

Not all damage to bathrooms is accidental or unintentional. Some of it might even be well-intended.
The BG News, the Bowling Green State University newspaper, recently published an article examining how some students are apparently scribbling encouraging slogans and messages on some of women's bathrooms at the college.
"When it starts getting negative, I don't really like it," sophomore Darien Perrin told the news source. "I just feel like if somebody is in a bad mood, if you see a quote while in the bathroom, it could lift your spirits a little."
Anna Estrada, the manager of the campus custodial staff who also spoke with the news source, recalled being pained to wash a large mural off a bathroom wall. She suspected the project took quite some time and was probably the work of an art student. However, she noted that most scribblings on the bathroom walls are a minor annoyance custodians see as part of their jobs to remove.
After noting that paper used to be posted on the bathroom walls so students could write messages without inconveniencing the custodial staff, the news source recited a conversation with Country Jones, a freshman who felt such mini-bulletin boards could be on the walls in more bathrooms.
"I feel like it's a form of expression, but if you're just blatantly writing on the stall, it's just wrong," she said.
Estrada mentioned that the messages and scribblings she's seen in the men's bathroom are typically contain fewer words and are often a bit more disgusting.
Labels: Bathroom Vanities