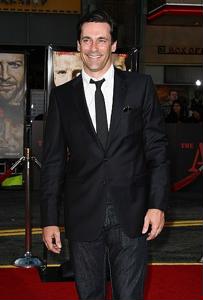 The internet has been all abuzz with the breaking news that beloved Mad Men hunk Jon Hamm will be guest starring in an upcoming episode of Bob's Burgers, lending that grizzled voice (and well-regarded sense of humor) to a talking toilet.
While there are probably plenty of people who wish their toilets spoke, and a large contingent of that group who wish they did so with Jon Hamm's voice, the creator of Bob's Burgers, an animated sitcom, assures us this isn't just a half hour of wish fulfillment.
"It's kind of [an] E.T. homage," he told Entertainment Weekly. "It's kind of a love story between a boy and a toilet."
Exciting as this will be for all those who have been praying for a bathroom fixture-themed take on Spielberg's classic family film, it's better news for Mad Men enthusiasts. Hamm is always a joy to watch while he's stretching his acting muscles, especially in the realm of comedy. But it does make one wonder where one of our greatest thespians goes to prepare for a role like this. Probably the bathroom.
While no pictures of Hamm's own loo are circling the internet's premier interior design sites, plenty of celeb bathrooms are. Elle Decor Magazine's website has featured some envy-inspiring photos of the shower stalls, medicine cabinets and toilet bowls of Hollywood's most (and least) talented. While Ralph Lauren's bathroom looks like a vision of the future, Ellen Pompeo's simple tub and antique terra cotta tiles are pleasantly rustic. Michael Bay's shower stall is a sleek mix of concrete and glass and Yves Saint Laurent's guest house bath in Marrakech is a study in turquoise tiling and eastern architecture.
Checking out celebrity bathrooms may make for great daydream fodder, but you don't need to be living the lifestyle of the rich and famous to enjoy a snazzily designed loo. With some economic effort, you can build the bathroom of your dreams. It may not actually be in gorgeous Morocco, but there's no reason why it can't transport you for the length of a long, relaxing soak in the tub.
Still, it's nice to know that even wealthy and world-famous actors like Jon Hamm aren't too spoiled by their luxurious bathrooms and can still relate to the salt-of-the-earth restroom users. He's not playing a talking bidet, after all.