Posted on Tuesday, March 20, 2012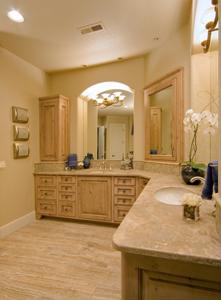 Now that the first day of spring is finally here, you may be thinking about starting your seasonal cleaning project, and your bathroom should be at the top of your list of priorities. According to Better Homes and Gardens, while a fresh coat of paint and a new shower curtain could go a long way, creating a compact storage system is the best way to open up the look of your space.
The area above your sink is space that has untapped potential, so start by adding a decorative mirror and placing a shelf underneath. A glass shelf with brackets that match your faucets and dials can create a streamlined appeal and provide a great place to hold soaps, perfume and other toiletries.
If you have a pedestal sink or extra space inside of your bathroom vanity, storage baskets are a simple way to compartmentalize the bath products for everyone living in your home. On the other hand, with a bit of space to space, you can always install a linen cabinet to give the room a cohesive look.
With the many changes you'll make in your interior design to adhere to a spring aesthetic, these changes can breathe new life into your washroom. What springtime decorative tips do you have for homeowners?
Labels: Remodelling Tips and Trends