Posted on Wednesday, March 28, 2012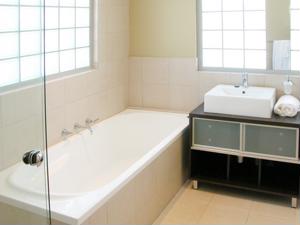 As you embark on a bathroom remodeling project in your guest room washroom, you should start off the process with the mindset that this will be very different from your everyday facilities. It should be a welcoming and accessible environment that gives your friends and family all of the comforts of home in a new setting.
If you're looking for inspiration for your new guest bath, decorative it in a spa-inspired style. Start with a compact bathroom vanity with a matching mirror and put up a series of towel racks near the shower or bathtub. You should also place a few extra soaps, shampoos or even some reading material for your guests on the vanity to make it more inviting.
You should also place a premium on the influx of natural light in your space. This is a great way to create a welcoming environment without having to break the bank. Experiment with colorful window valances and light-filtering shades to add a cozy touch during any time of the year.
A guest bath is a bit trickier than decorating your master bathroom, but with a few creative adjustments, you'll have a versatile space that your friends and family will love. What design tips do you have for homeowners designing a guest bathroom?
Labels: Remodelling Tips and Trends