Posted on Wednesday, December 14, 2011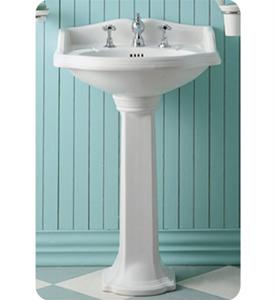 For those looking to give their bathroom a dose of traditional style, there's nothing quite like adding a pedestal sink. However, many of these bathroom vanities have exposed plumbing and offer very little in the way of storage, so using a sink skirt may be a wonderful way to hide toiletries and give your space a pop of color, according to HGTV.com.
This is a fairly quick and easy craft project that requires just a bit of measuring, a little sewing and a glue gun. Head off to your local craft store to find a cut of fabric that can adhere to your design scheme. Be sure to measure the height and width of the sink and add about five inches to compensate for the hem and seam allowance.
You can then use a small piece of cotton piping cord to form a small seal with the top of the sink. This is fairly easy and can be sewn together rather quickly with a sewing machine. When it's all done, you'll have an ingenious way to store more items in your washroom and an extra dose of color.
These simple craft projects can work wonders to put your personal stamp on the space. What kinds of crafts can you use to improve the look of your washroom?
Labels: Remodelling Tips and Trends