Posted on Monday, November 21, 2011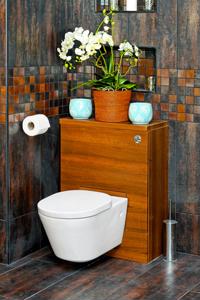 There's something so appealing about a natural aesthetic in the bathroom, as it has the unrivaled ability to merge the indoors and outdoors seamlessly. With the myriad options to bring this aesthetic into your own space, you can easily combine rustic and natural accents in tandem with your contemporary bathroom accessories.
Start first by choosing a bathroom vanity - a traditional wooden design lends itself well to surrounding plants and other outdoor accents. You can also use small woven baskets underneath your sinks and around toilets to keep small items out of view. Look into brushed copper faucets and vessel sinks as well - the dark contrast of these items will lend a unique touch to your space.
Plants and paint color are other huge considerations. Be sure to incorporate plenty of ferns, hanging plants and small trees into the space. Use a softer hue on the walls so that the greenery will stand out against the neutral backdrop.
Thinking of a bathroom as a sanctuary is a wonderful way to approach a design project, and it will lend itself beautifully to the many options of a natural decorative scheme. How will you make your bathroom stand out?
Labels: Remodelling Tips and Trends