Posted on Tuesday, October 4, 2011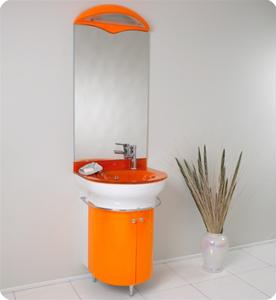 While many older bathrooms were designed to be utilitarian rather than beautiful, today's bathrooms often blend stunning design with efficient use of space and products. Whether homeowners plan their bathroom design on their own or enlist the help of a professional designer, creating an easy-to-use, luxurious space that reflects their personal style is now easier than ever, thanks to a large variety of products available.
Many designers suggest choosing a bathroom vanity first when planning a new bathroom design, as the vanity serves as a focal point and will dictate the entire feel of the space. Interior designer Jerry Jacobs says that the vanity can be anything but average.
"I believe that vanities are like sculpture, however with obvious functions in them. That is why I don't have preconceived ideas for them and simply come up with what the room and client inspire me to do," he said.
Jacobs says that the placement of the vanity in the bathroom can also impact the overall feel of the space.
"I've gone to the trouble of redesigning the whole space not only for the basin, but for the whole of the project and that's given me the opportunity to come up with some unique spaces."
Whether you strive to create a traditional, modern, contemporary or antique bathroom, there are thousands of vanities available in stores and online that will help make your vision for a beautiful room a reality.


Labels: Bathroom Vanities