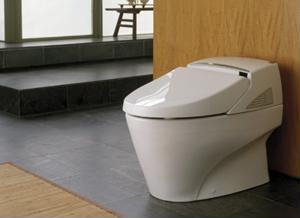 According to the U.S. Environmental Protection Agency, toilets are by far the main source of water use in the home, accounting for nearly 30 percent of residential indoor water consumption. Experts say individuals who are renovating a bathroom or just want to save money by improving their water-efficiency should consider installing a new toilet. Replacing older models with a WaterSense-certified toilet can save as much as 4,000 gallons of water each year.
While many companies at the 2011 Greenbuild Expo in Toronto, Canada, are showcasing sustainable, eco-friendly products for the bathroom, one insists its products truly make every flush count.
"Caroma's message and belief that one flush can make a difference in the world is taking hold across North America and we are excited to be bringing our message back to Greenbuild," said Caroma's Derek Kirkpatrick. "If one person were to use a high efficiency toilet for one year, they'd save almost 330 gallons of water."
Caroma and many other companies are showcasing the latest designs and innovations in toilets for homes and businesses. The company's Sydney Smart 305, Somerton Smart 270 and Invisi™ Series II wall-hung toilets all feature the dual flush system, which uses less water for liquids and more for solids.