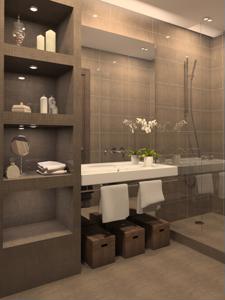 Are you planning your modern bathroom renovation but don't know where to start? There are many ways that you can go about in creating a truly sophisticated space, but here are some guidelines to ensure that the look of the room stays true to your modern aesthetics.



Color. The modern aesthetic is normally associated with neutral tones indicative of a clean and sophisticated palette. White walls, tiles and bathroom accessories are always a great option as the starting point to your renovation. For a bolder look, opt for a black accent wall, or if you prefer a soothing shade, go for gray.



Furniture. The modern bathroom vanity is characterized with its streamlined design and minimalist detailing. As opposed to traditional pieces, modern furniture also makes use of different materials like plastic and metal. The bathroom vanity in a modern space is also most often ergonomically-designed to cater to its many users.



Décor. Minimalism is most often a descriptor for modern bathrooms, so the décor should have impact without cluttering the space. Most bathroom accessories should also be practical to the room.