Posted on Friday, July 22, 2011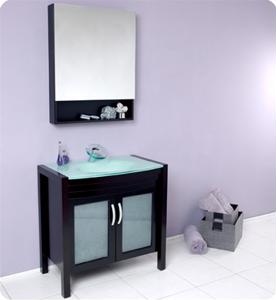 A contemporary approach in interior design means opting for simple lines and minimal details. Especially in a cramped area like the bathroom, it's important to use elements that will create the illusion of space and serve as understated yet chic additions to the room.
Glass, for instance, is a material that's been widely used in many contemporary bathrooms, and if you're in the midst of a bathroom renovation, you might just want to invest in the right piece. A glass partition can be used to separate different areas in the bathroom without limiting the viewer's perception of space. For the shower, a translucent glass panel is not only functional but also an aesthetically pleasing addition.
The element can also be used in other areas of the room, including the bathroom vanity. For a contemporary feel, choose a piece with tempered glass for its countertops. The material gives the bathroom vanity a certain je ne sais quoi, but it's also a practical addition that can easily be cleaned and maintained.
Labels: Contemporary Bathroom Vanities