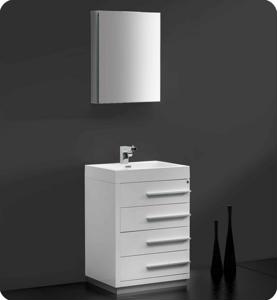 In a minimalist bathroom design, it's all about complementing pieces that don't detract from each other. With a neutral color palette and bathroom accessories that blend harmoniously with the rest of the space, choosing a bathroom vanity that fits the category might be easier said than done.



How hard can it be? Choosing a contemporary bathroom vanity should be the obvious choice for a minimalist bathroom, but there are still many options to consider.



Other than the color of the piece, factors like its design and functionality should be important things to think about as well. For that true contemporary look, opt for a bathroom vanity with a streamlined design, composed of straight lines and minor detailing. The materials used can also be a crucial factor to consider - will a stainless steel bathroom vanity be too much in the space? Will the wood cabinets be too distracting?



A bathroom vanity that's low-key and minimal can easily be integrated in a space with a contemporary aesthetic.