Posted on Friday, July 15, 2011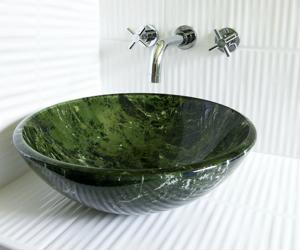 The sink is an integral component in any bathroom, and if you're planning on renovating the space, you might want to start with this fixture, considering the fact that it's one of the most used in the room. To modernize the space, you might want to opt for a vessel sink.



"Vessel sinks are a modern amenity that gives a lot of 'bang for your buck', and it gives an instant wow factor that homeowners and guests appreciate," explains Freshome. Since there is a variety to choose from, make sure that you opt for a piece that will reflect the design aesthetic that you're aiming for. The news source suggests opting for a glass or lacquered vessel sink for a bathroom vanity with a contemporary look.



Besides its functionality, the vessel sink can also be a statement piece in the bathroom. For that needed focal point in the space, look for a piece with attitude and pizzazz - a sink covered in mosaic glass is a great piece of art that can create that much-needed visual impact in the room.
Labels: Bathroom Vanities