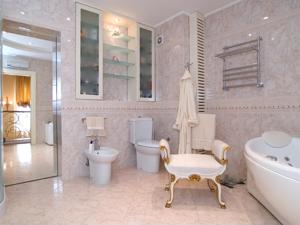 The bathroom is one space in the home where you can truly showcase your personality. Because of its small space, a bathroom makeover is often an easier process than any other room - as long as you're not replacing fixtures like the toilet or the bath tub, of course! For the gal who seems to have it all, a glamorous bathroom makeover might just be the way to go.



Start with a color palette and theme that will carry throughout the whole space - For a glam, yet sophisticated approach, consider a neutral palette of creams and ecrus that can complement already-installed bathroom fixtures.



Once you have your colors chosen, adding the right bathroom accessories can make or break the overall feel of the room. For the quintessential piece of glamour, opt for a luxurious vanity seat with gold leaf detailing. The gold on white is such a great touch than any girl will truly appreciate. And, of course, don't forget the sparkly details. Install a crystal chandelier for that added visual appeal.