Posted on Monday, April 25, 2011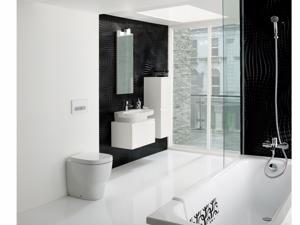 Many hear about it all the time, but most of us may not know what to picture when the term "modern" is uttered.
Is a modern design a streamlined look with strong geometry and futuristic aspects - maybe a room fit for the Jetsons? Flying cars aside, this design aesthetic can be characterized by clean spaces decorated without too much fuss. According to HGTV, the style came from the 1930s German Bauhaus School of Design as well as Scandinavian influences.
Individuals who are thinking about overhauling their bathrooms to alter the aesthetic should begin with a neutral palette. The news source explains that a modern space should most likely have white walls, allowing the furnishings and bathroom accessories to take center stage.
Additionally, individuals may want to think about adorning the room with sleek, smooth and polished accessories, according to the news source. This means choosing a bathroom vanity with a simple but bold appearance and bathroom faucets and other fixtures in chrome or stainless steel.
Following this modernistic approach will definitely bring your space into the 21st century, but don't be afraid to personalize it by adding pieces that you love.
Labels: Modern Bathroom Vanities